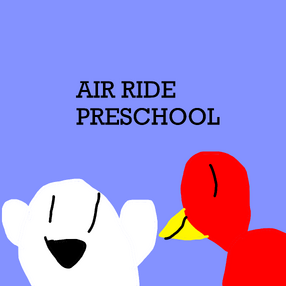 Air Ride Preschool is a spin off of The Air Ride Series. It involves the TARS characters, as well as Granny Torrelli and Bandit, when they were in Preschool. Only the characters who are troublemakers at school are shown here. It was started on September 3rd, 2015.
List of Comics
Edit
Blue Kirby is playing with truck during playtime. He says, "I see truck, Driver Drunk." Suddenly, Bandit smashes through the wall in a giant monster truck and squishes everybody.
The characters are going on a plane for a field trip. Dyna Blade and White Kirby take control and smashes it into the Twin Towers.
Blue pulls a prank on Red Kirby.
The Kids are playing with lighters again, and light the school on fire.
The characters have an ABC test where they have to sing the ABCS. They sing it as follows, "ABCDEFG THET EACHE RIS VER YFAT." The Teacher is pissed.
A normal day in the sandbox, until White Kirby declares war on Blue Kirby and then sand guns, sand cannons, sand forts, and other war stuff are made and it gets chaotic.
Ad blocker interference detected!
Wikia is a free-to-use site that makes money from advertising. We have a modified experience for viewers using ad blockers

Wikia is not accessible if you've made further modifications. Remove the custom ad blocker rule(s) and the page will load as expected.