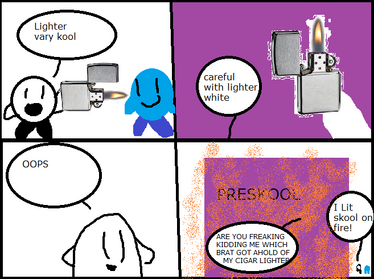 Playing with Lighters is the 4th Air Ride Preschool Comic.
This is the first preschool comic not to have the preschool teacher appear. However, she does have a quote bubble.
This is the first Preschool comic made on Poyo's laptop.
One of the deviantart tags is whydoistillmakecomicswhenihave0fanswellitscuzihaveDETERMINATION. This shows that while having almost 180 comics at the time of this release, TARS gains minor popularity, but Poyo Ride still makes comics.
Ad blocker interference detected!
Wikia is a free-to-use site that makes money from advertising. We have a modified experience for viewers using ad blockers

Wikia is not accessible if you've made further modifications. Remove the custom ad blocker rule(s) and the page will load as expected.