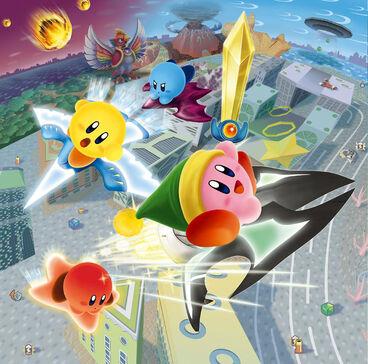 City Trial is a mode in
Kirby Air Ride
, and a competition in
The Air Ride Series
.
The city trial is hosted by Stadium Prediction. Dyna Blade hides the pieces, (revealed by the Shadow Star in a FB post) but she sometimes slacks off and doesn't hide them. The Stars all have the job to wait in line to jump out to go out into the city and hide, though the Stadium Prediction keeps some for when some stars are ridden or destroyed. However, the Shadow Star mostly stays in because he hates kirbys.
Kirbies from all around the world come and compete in City Trial. And by around the world they all live in the same town. City Trial is the main focus of The Air Ride Series. Various stories and comics take place in City Trial. In total, 9 Kirbys play in City Trial.
Competeors
Edit
In early days of TARS, there were more competeors in City Trial. Doopliss took the disguise of a kirby and came into city trial, and Air Man came in. (represented by a Purple Kirby)
Ad blocker interference detected!
Wikia is a free-to-use site that makes money from advertising. We have a modified experience for viewers using ad blockers

Wikia is not accessible if you've made further modifications. Remove the custom ad blocker rule(s) and the page will load as expected.