A day in the life of Nightmare Foxy is the 69th comic in The Air Ride Series. It focuses on Nightmare Foxy.
Comic EX3
Edit
For the third EX Comic, Poyo Ride remade this comic, and changed Nightmare Foxy to Nightmare Mangle, who was newly added in the Halloween edition of FNAF4. One of the big changes is the fourth panel, where it does not show the inside of the closet.
hehehe the comic number.
The Mangle remake has more views on deviantart than the original, having about 100 more views.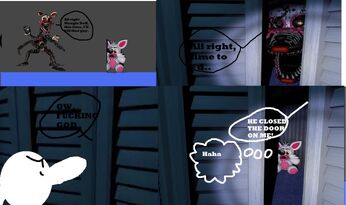 Ad blocker interference detected!
Wikia is a free-to-use site that makes money from advertising. We have a modified experience for viewers using ad blockers

Wikia is not accessible if you've made further modifications. Remove the custom ad blocker rule(s) and the page will load as expected.