Creation
Edit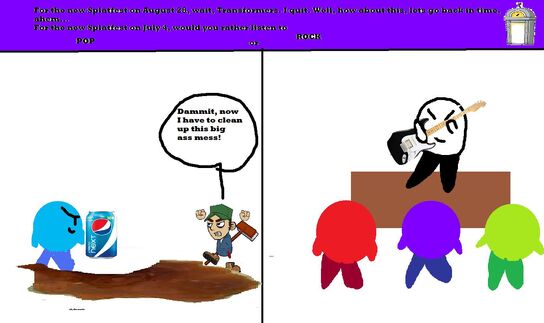 Due to a Transformers Splatfest, and that Poyo Ride did not watch Transformers, Poyo Ride had a big Idea Block. He couldn't pick a team, and also did not know what to do for the comic, even if he did pick a team, so he went back to Europes First Splatfest to make it a comic.
Despite Rock being the first team, and Pop being the second team, Rock is on the right Panel, and Pop is on the left.
This is the only Europe Splatfest to not be an EX comic.
Poyo Ride apparently used time travel to show the events of this comic.
Blue Kirby Spilled Pepsi Next, however, the spill sprite used in the Pop Section is actually Diet Coke.
Like the first Splatfest, there is a message. In the Pop Panel, there is a message saying, oh, the music. It is small.
Due to the time travel in the comic, the top of the screen is purple.
This does not mean Poyo Ride is Team Deception, in fact, he is on the other team.
Like Comic 70, Poyo Ride did not encourage people to pick the side he is on, though this one is a bit less obivous, though if you know the trend in these comics, which is that the panel Blue Kirby is on is never the one Poyo Picked, and looking at each panel twice, and Comics 64 and 70 you can tell he is team rock.
He also said it in a Deviantart update.
This is the first Splatfest Comic where the team that is just having fun and not having an accident won in the real Splatfest.
Ad blocker interference detected!
Wikia is a free-to-use site that makes money from advertising. We have a modified experience for viewers using ad blockers

Wikia is not accessible if you've made further modifications. Remove the custom ad blocker rule(s) and the page will load as expected.