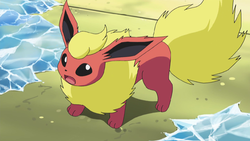 Flareon is a character in TARS.
Flareon is always crying because of all the fighting going on with Vaporeon and Jolteon, and believes every Pokemon is created equal. 
Flareon will most likely be the one of (if not the) last Pokemon to be introduced in TARS, having his page created seconds after Jolteon and Vaporeon. Poyo Ride wants to focus on The Pokemon Series more. However he won't be the last Pokemon who will have his personality revealed.
Ad blocker interference detected!
Wikia is a free-to-use site that makes money from advertising. We have a modified experience for viewers using ad blockers

Wikia is not accessible if you've made further modifications. Remove the custom ad blocker rule(s) and the page will load as expected.