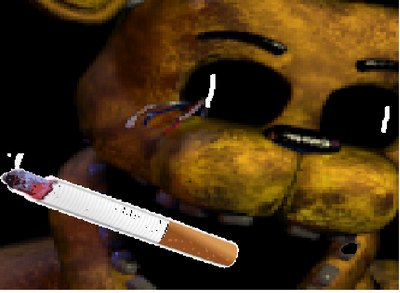 Golden Freddy is a character in The Air Ride Series.
Golden Freddy is Freddy Fazbears cousin who just sits around at the restraunt doing nothing. He appears in random locations, and likes jumpscaring kids. The only peep he makes is his jumpscare noise.
Golden Freddy is an Assist Trophy in SMSB. When Summoned, he will do his Jumpscare, and damage everyone he hits.
Golden Freddys Possible Nightmare Counterpart, Nightmare Fredbear will not be present in the FNAF4 Long Comic, instead, Nightmare Dyna Blade will be there. In TARS, Nightmare Fredbear appears whenever Golden Freddy takes Steroids.
Poyo Ride used to think Golden Freddys Hands were his feet and his feet were his hands for both of his sprites in FNAF1 and 2.
Ad blocker interference detected!
Wikia is a free-to-use site that makes money from advertising. We have a modified experience for viewers using ad blockers

Wikia is not accessible if you've made further modifications. Remove the custom ad blocker rule(s) and the page will load as expected.