Raging Waves is a waterpark that the Kirbys visited in Raging Waves Visit .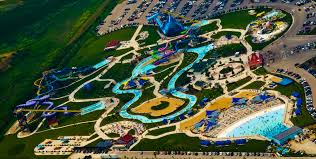 In real life
Edit
The place in TARS is basically the same as in real life, with similar slides and such.
A park based on Raging Waves is a stage in SMSB, in DLC pack 2. It is one of the larger stages. Players go down slides to reach areas, and can take stairs to get back up, and pick a stop. Tamasian Twisters and PJ's Plummet appear. Riding slides will do some minor damage. (As when Poyo rode the Tasamain Twisters when there, he disliked the very end as water was getting in his face. (it's
hard to explain.) And PJ's Plummet hurt his back.) Either one of the Twisters will do 2% when the fighter gets out. And PJ's Plummet does 4% during the ride. Fighters can push others down the Twisters, though you have to manually go down PJ's Plummet.
Another stage is based on the Three Sisters, in DLC Pack 3. In this one, fighters fight at the top, and can go down any of the three slides to get into the water, and swim out and take the stairs back up.
Poyo's favorite ride used to be the Three Sisters. (Particualary the Pink One.) In fact, during the place where there are two lines near the start of the slide, and one person starts on the left and another on the right, (they don't go at the same time) everybody in line for the pink one was on the left, so Poyo got to be first in the line on the right. :D Nowadays, Poyo says it would be the new red one or the boomerang.
Ad blocker interference detected!
Wikia is a free-to-use site that makes money from advertising. We have a modified experience for viewers using ad blockers

Wikia is not accessible if you've made further modifications. Remove the custom ad blocker rule(s) and the page will load as expected.