The Air Ride Group (April 20 2014-December 15, 2014) was a group led by White Kirby. It was the beginning stage of TARS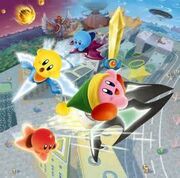 , though in December 2014, White Kirby got his FB account terminated, and the series started to evolve from The Air Ride Group. The Air Ride Group was disbanded, and Comics took the scene, with old members of the group and new characters appearing.
To be in the group, the character needed a Facebook account.
White Kirby-Leader
Mewtwo-Co Leader
Dyna blade
shadow star
Winged Star

blue Kirby
yellow Kirby
red Kirby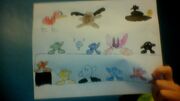 Green kirby
orange Kirby
Brown Kirby
Kirby
Sea Bass
Porter
all patch
Stadium Prediction
darkrai
mega man
quick man
Elec Man
Air Man
Freddy Fazbear, Nightmare, and Springtrap got FB's after the disbanding, and are not members of the now disbanded group.
The category for characters on this wiki is called, "Air Ride Group Members." Most characters in there were not in the group, and it is used as a Character category.
On the groups "2nd logo," Purple Kirby, Brown Kirby, and Black Kirby appear, though they were both never in the group, and neither ever had a FB account.
Ad blocker interference detected!
Wikia is a free-to-use site that makes money from advertising. We have a modified experience for viewers using ad blockers

Wikia is not accessible if you've made further modifications. Remove the custom ad blocker rule(s) and the page will load as expected.